Total Time: 45 minutes
Ingredients
7 oz (2 links) sweet Italian chicken sausage, removed from skin
olive oil spray
1 3/4 cups part skim mozzarella, shredded (for gf, check labels)
1 tbsp olive oil
1/3 cup chopped shallots
5 oz sliced shiitake mushrooms
1 cup chopped roasted red bell peppers (from a 12 oz jar)
1 1/2 cups finely chopped broccoli florets
8 large whole eggs
4 large egg whites
1/4 cup fat free milk
2 tbsp grated parmesan cheese
1/2 tsp kosher salt
1/4 tsp ground black pepper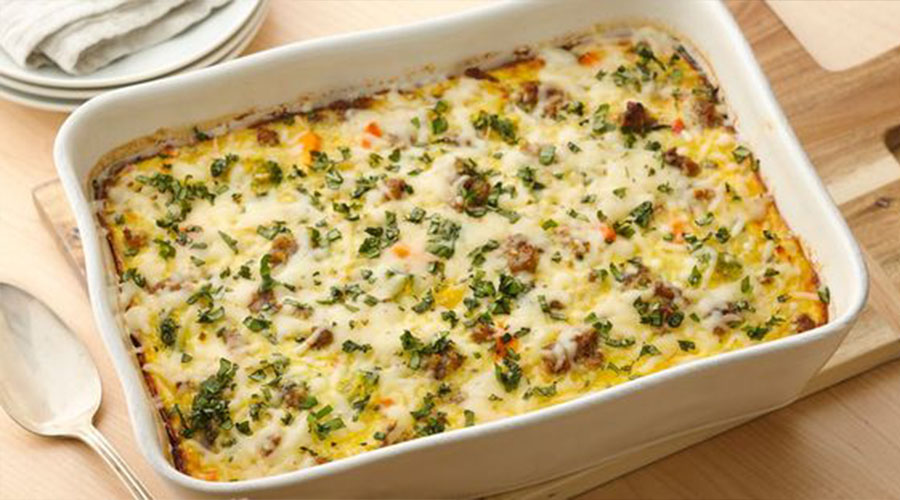 Instructions
Preheat the oven to 375°F. Spray a 9 x 13 baking dish with oil. Place half of cheese into the baking dish.
Spray a large nonstick skillet with cooking spray, cook the sausage over medium heat breaking up as it cooks until browned and cooked through. Set aside.
Add the oil to the skillet with the shallots and mushrooms and saute until vegetables are tender, about 5 to 6 minutes. Add the roasted peppers, broccoli and return the sausage, cook 1 minute; mix well and remove from heat. Spread evenly over
the cheese mixture.
In a large bowl combine the eggs, egg whites, milk, parmesan, salt and pepper and whisk well. Slowly pour over the vegetables in the baking dish and top with remaining cheese.
Bake until a knife inserted near the center comes out clean, 32 to 35 minutes. Let stand 8 to 10 minutes before cutting into 8 pieces.
Nutrition Information
Yield: 8 Servings, Serving Size: 1 square
Calories: 230 calories
Total Fat: 13.5g
Sodium: 496mg
Carbohydrates: 7g
Fiber: 1g
Sugar: 2g
Protein: 19g